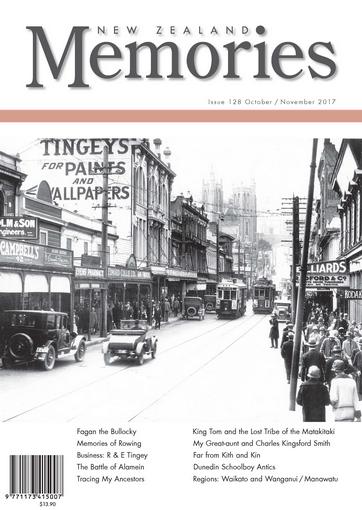 Inside issue 128


Early European migration is an underlying theme in this issue. Our leading article follows the adventures of May who sailed from Australia to New Zealand, initially settling in Ashburton and then on to Napier, where she had a profound effect on her family and community. The sailing ship Euterpe brought its fair share emigrants from the homeland, as did the SS Napier (a ship noted for its fast 71-day voyage from Glasgow to Port Chalmers) and the published stories demonstrate the hardships endured by these nineteenth century migrants. June Bowen writes in her article, The water closets proved to be defective and the effluent was carried aloft in buckets up a vertical ladder to be disposed of over the ships railings. Three days into the journey it was discovered that the crew had eaten the entire meat rations for the journey& Imagine! And the likelihood of ever returning after this oft-treacherous voyage to the other side of the world was slim.

As the nation marks the 100th and 75th anniversaries of World War I and World War II respectively, we have received numerous war related articles. This issues valued contribution from Matt Elliott comes from a unique angle.

As always we include a sprinkling of shorter pieces purely for enjoyment: Rusty Went Shopping and Election Laughs, contributed by two of our popular authors meet this criterion admirably. Rae Atkins brings a tale of mystery to the mix, perhaps with another chapter to be added if readers have information. History is ever evolving.

.

Have New Zealand Memories delivered
For Just $72.00!
| | |
| --- | --- |
| | Renew Subscription |
| | |
| | Gift Subscription |
| | |
| | Six Issue Subscription |