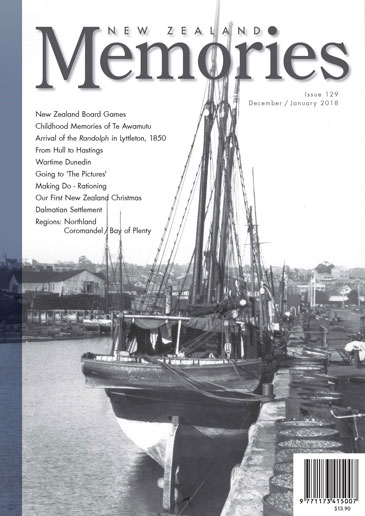 Inside issue 129


The leading article in Issue 129, by Christine Scales, is a fine example of how memories can become intertwined with the past as this author reflects back on the early inhabitants of Te Awamutu and muses on her schooldays, comics, Enid Blyton books and homespun entertainment of the 1940s. Allan Smith shares the same decade in his recollections of the war years when everyone was doing their bit to keep the home fires burning.

Archivist Jo Smiths submission dates back to mid-nineteenth century Lyttelton. When emigrant Isaac Philpott arrived on the ship Randolph he observed from the deck dog kennels or pigeon houses on the hill; hence the title of this unusual account. In comparison, relative newcomers to the country, Malcolm Ford and Columba McBride pen their own positive observations upon settling in New Zealand from post-war Britain and beyond. The action shot of Malcolm cycling down Lyell Street in Hastings is a classic!
Theres always a line up of smaller snippets to amuse and delight: rugby anecdotes; going to the pictures, postmark collection; war rationing; and tongue-in- cheek verse from Bill Conroy. Jean Arundale asks Were you there? in reference to an Auckland Domain Nativity play. Perhaps you were!

One author in this issue who has already achieved recognition is Bob Reynolds, inventor of board games. They have become New Zealand icons in this era of computer games.



.

Have New Zealand Memories delivered
For Just $72.00!
| | |
| --- | --- |
| | Renew Subscription |
| | |
| | Gift Subscription |
| | |
| | Six Issue Subscription |