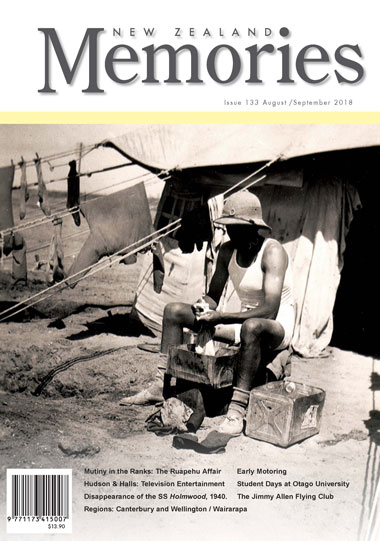 Inside issue 133 (August - September 2018)


Amongst numerous great reads we feature the characters of the popular New Zealand cooking series Hudson & Halls. Claire Duncan profiles a duo who preferred the label of entertainer rather than chef. A wise choice; while their recipes and methods were somewhat dubious the on-screen presence of Peter Hudson and David Halls was unforgettable.

This issues cover of a soldier washing clothes in the Middle East desert, photographed by Bob Lealand in 1943 during the Second World War, introduces our leading article. Geoff Lealand examines a confrontation back on New Zealand soil, one that affected his father and many other men who loyally served King and Country.
Tales of Otago University introduce some dry humour to Issue 133. Paul Aubin is welcomed back with his memories of varsity in the 1950s. Flatting, Friday night hops and the great age of the coffee shop& somewhere lectures, study and exams were crammed between the rigours of student life.

Photographs from personal collections are always a pleasure to print and of note in this issue, apart from the fine cover, are the spectacular Cape Foulwind cave, motorcycles on a newly formed Lewis Pass and Cynthia Christies Wairarapa students with the question, Are you in the photograph? It's surprising how many readers open up the magazine and spot a family member.



Enjoy this latest issue .



.

Have New Zealand Memories delivered
For Just $72.00!
| | |
| --- | --- |
| | Renew Subscription |
| | |
| | Gift Subscription |
| | |
| | Six Issue Subscription |