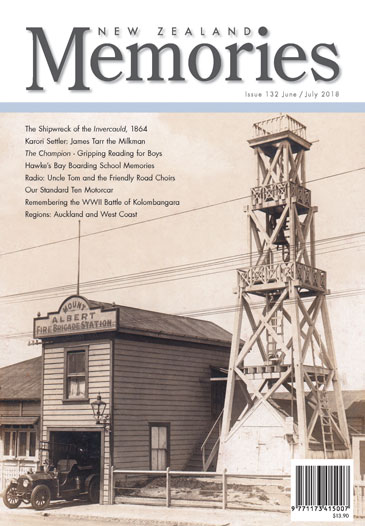 Inside issue 132 (June-July 2018)


Our leading article tells of a true story of survival under the most appalling of conditions. Gordon Campbells vivid account describes the ordeal that faced the men of the Invercauld in May 1864 when their ship capsized in sub-zero conditions. Few remained alive to tell their tale. In addition, the narrative touches on the establishment of Hardwicke, a colony dreamt up by Charles Enderby and planted in 1849 on the remote Auckland Islands, 465 kilometres south of the South Island. Over two hundred settlers arrived from Britain aboard three ships including families with young children to try their hand at agriculture and whaling. Imagine their disappointment! Enderbys vision turned into a living nightmare for those brave souls and, after only three years, the colony was abandoned as a lost cause.

Hugh Hickman writes, Seventy- odd years ago I never missed a date with Radio Station 1ZB at 6.p.m. on a Friday night to listen to Uncle Tom and his Merrymakers choir. This will be a nostalgic topic for those who grew up with the radio in those distant days before television and computers.

Theres nothing like a cold rainy day to curl up and enjoy a spot of reading. So, with winter upon us, do enjoy this 132nd Issue of New Zealand Memories.



Enjoy this latest issue .



.

Have New Zealand Memories delivered
For Just $72.00!
| | |
| --- | --- |
| | Renew Subscription |
| | |
| | Gift Subscription |
| | |
| | Six Issue Subscription |